Info from the official website, various Japanese fan sites, and King Records. Many thanks to Culen and CajunBushi for further info and pics.
the pillows officially formed on 9/16/1989 as a four-man group. They made their indies debut with the mini album Pantomime in 1990. Their major debut was the album Moon Gold in 1991, on the Pony Canyon label. They took their name from a poster the lead guitarist, Yoshiaki Manabe, had in his room- the cover art for Cherry Red Records' Pillows and Prayers compilation. This art work was later featured in the booklet for the album Please Mr. Lostman. The fourth man and original bassist, Kenji Ueda, left the band in 1992 to become a music producer and do solo work. Since then, Tatsuya Kashima and Jun Suzuki respectively took his place.
They gained many new fans (including me :) ) all around the world after their music was featured in Gainax's 2000/2001 anime oav release, FLCL (Furi kuri). They celebrated their 15th anniversary in 2004 with much huzzah, including re-recordings of early songs as well as the release of a tribute album featuring covers by fellow Japanese bands. In 2005, they released a US version of penalty life, and made their incredibly successful live debut in America at Austin's annual SXSW (South by Southwest) music festival, with tour stops in New York, Seattle, Los Angeles, and San Francisco. They returned to the US in 2006, making an additional stop in Mexico.
In 2007, the pillows departed King Records and signed on with Avex Entertainment. They took another tour of the US in 2008, and have continued going strong through their 20th anniversary in 2009. Their most recent single, Rodeo Star Mate, is featured as an opening theme for the Japanese anime Stitch!.
Sawao Yamanaka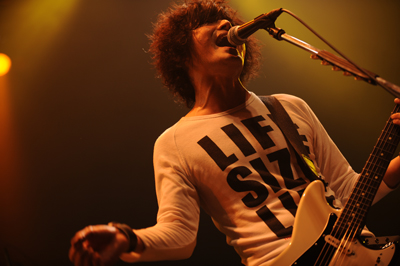 vocals + rhythm guitar
born 12/07/1968 Hokkaido prefecture
He writes the songs, he designs the t-shirts, he rocks out. Likes curry. Admires/influenced by Simon and Garfunkel, The Beatles, The Pixies (he named a song after their bassist, Kim Deal), The Jam… did a demo tape in 1998 with members of Mr. Children as a group called Hayashi Hideo. Founded Delicious Label in 1999. Recorded a few songs with his older brother, Hidetoshi Yamanaka, as the Spiky Brothers in 2000. Produces noodles and The Razorleague. Occasionally works on a side project called The Predators. Has also acted in a movie, Colors of Life, and lent his voice to a minor character in the anime Beck. Prior to the pillows, he sang vocals for The Coinlocker Babies.
Yoshiaki Manabe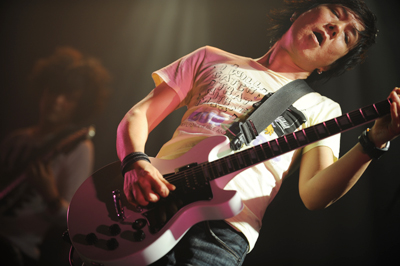 lead guitar
born 10/2/1962 Hokkaido prefecture
Has also put out two solo electro-reggae albums, Solomonic Polar Bear, and Return of the Polar Bear under the moniker Nine Miles (Nine Miles is the Jamaican village where Bob Marley was born). Bob Marley is, of course, his favorite artist. Has done mixing and programming for their own albums, including Smile; Thank you, my Twilight; Penalty Life; Good Dreams and MY FOOT. In 2006, remixed two pillows' songs from MY FOOT, which were released as the Gazelle City single. Before the pillows, he played for the band Persia. Affectionately known as "Pee-chan" since those days.
Shinichirou Satou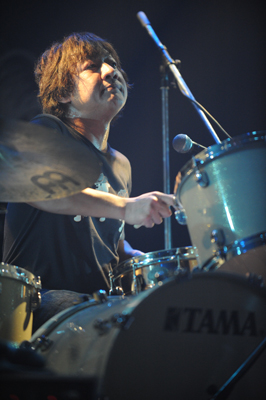 drums
born 8/16/1964 Ibaraki prefecture.
Plays the drums like a demon. He also has an affinity for the ukelele. Affectionately known as "Shin-chan". A big fan of The Clash. Drummed in a side project called O.P. King in 2003, and also drums for The Pees. Previously drummed for punk band Kenzi and the Trips (1987-1989).
Yoshinori Arie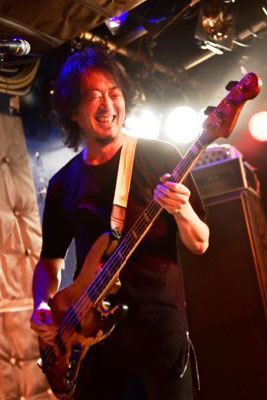 bass
born 12/25/1969 Fukuoka prefecture.
He started playing as the support bassist in 2015. Member of the band "VOLA & THE ORIENTAL MACHINE". He contributed bass to two of the tracks on the 2016 album STROLL AND ROLL and the entirety of the 2017 album NOOK IN THE BRAIN. He plays bass with intensity and has a good sense of humor. He seems to be particularly fond of posting pictures of Shinichirou on his Instagram page. He also uses Twitter.
Jun Suzuki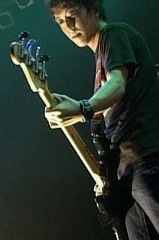 former bassist
born 7/18/1968 Chiba prefecture.
He is considered a guest bassist out of respect to the original members, though he performed with them from 1999 to 2015. Formerly of The Chewing Gum Weekend. Does solo recording work as fragments, you can find some of his songs on releases from Delicious Label. Also moonlights as a DJ. He makes his first appearance in a music video in 'Terminal Heaven's Rock' (a rarity for a bassist).
There is a manager for the pillows also named Jun Suzuki, who writes a blog for the pillows – don't be confused.
Tatsuya Kashima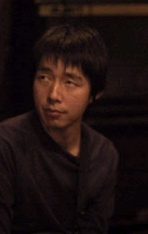 former bassist – 1992-1999
born 8/20/1963 Tokyo
He was bassist for the pillows after Kenji Ueda left, contributing to recordings and performances up until the album RUNNERS HIGH. He was later a member of Nino
Trinca, on Bumblebee Records, a label that Kenji help found. Prior to the pillows, he was a member of Super Bad.
Kenji Ueda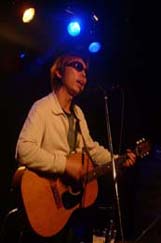 former bassist – 1989-1992
The original bassist !! You can view his speech from his last show with the pillows on the Walkin' on the Spiral DVD. He now produces and does some solo work. Prior to the pillows, he performed in Kenzi and the Trips (1987-1989). Enjoys ping-pong in his spare time.
Buster-kun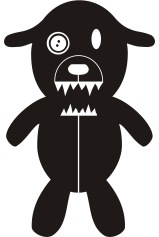 mascot
Buster-kun (kun = a friendly sort of japanese name suffix) the bear has been the pillows' mascot since about 1997, when the boys went to London and saw this interesting looking toy in a shop window. You can see it in the 'Hybrid Rainbow' video, and on the cover of the Hello, welcome to Bubbletown's happy zoo video/dvd. Buster-kun is often featured on band shirts, and has been offered on various occasions in the form of the popular kubrick toys, as a keychain, and more. And, of course, fans of the pillows are affectionately known as 'little busters'.